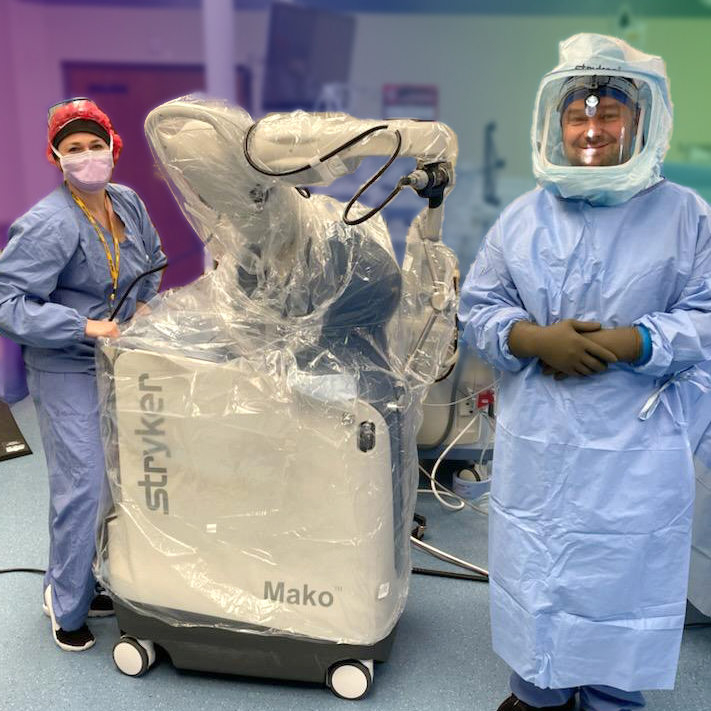 Is the robot doing the surgery?
No, the robot does not perform the surgery! The robot, in its simplest form, is a highly accurate tool, used by the surgeon to create very precise cuts and measurements. By uploading a digital scan into the system, your surgeon will follow a personalized surgical plan based on your unique anatomy. Your surgeon will use these plans to guide the robotic arm within pre-defined areas making your joint replacement as accurate as possible.
What's the difference between Robotic and Traditional Joint Replacement Surgery?
The difference between a robotic assisted joint replacement and a traditional joint replacement comes down to precision. Your surgeon operates on your joint with full awareness and feedback set up by the uploaded scan of your joint. Studies have shown surgeries performed with robotics offer more accurate results. The more accurate the cut, the less trauma on the bone and tissue, and the less trauma caused to the joint allows for less pain and faster recovery after surgery.
Every patient is different. But if you are a candidate for robotic assisted joint replacement, in general, some of the benefits may include:
Reduced need of opiates
Shorter hospital stay
Faster recovery
Less post-operative pain
For a detailed explanation on how the surgery is performed, read more here:
Who's a candidate for Robotic Assisted Joint Surgery?
Most patients that qualify for joint replacement would make a good candidate for Robotic Assisted Joint Replacement. Often this comes down to past treatments and the severity of your condition. Our team of physicians follow treatment plans that fit the individual's needs, and sometimes traditional replacements are still recommended.
Experience Matters.
Joint replacement is an important decision and having a qualified and experienced surgeon on your team can make all the difference. Orthopedic Associates is the region's leader in orthopedic care and to date have successfully completed the most robotic assisted joint replacements in Miami Valley. Trust the experts and make an appointment with one of our specialists to find out more about robotic assisted joint replacement, and whether it may be right for you.