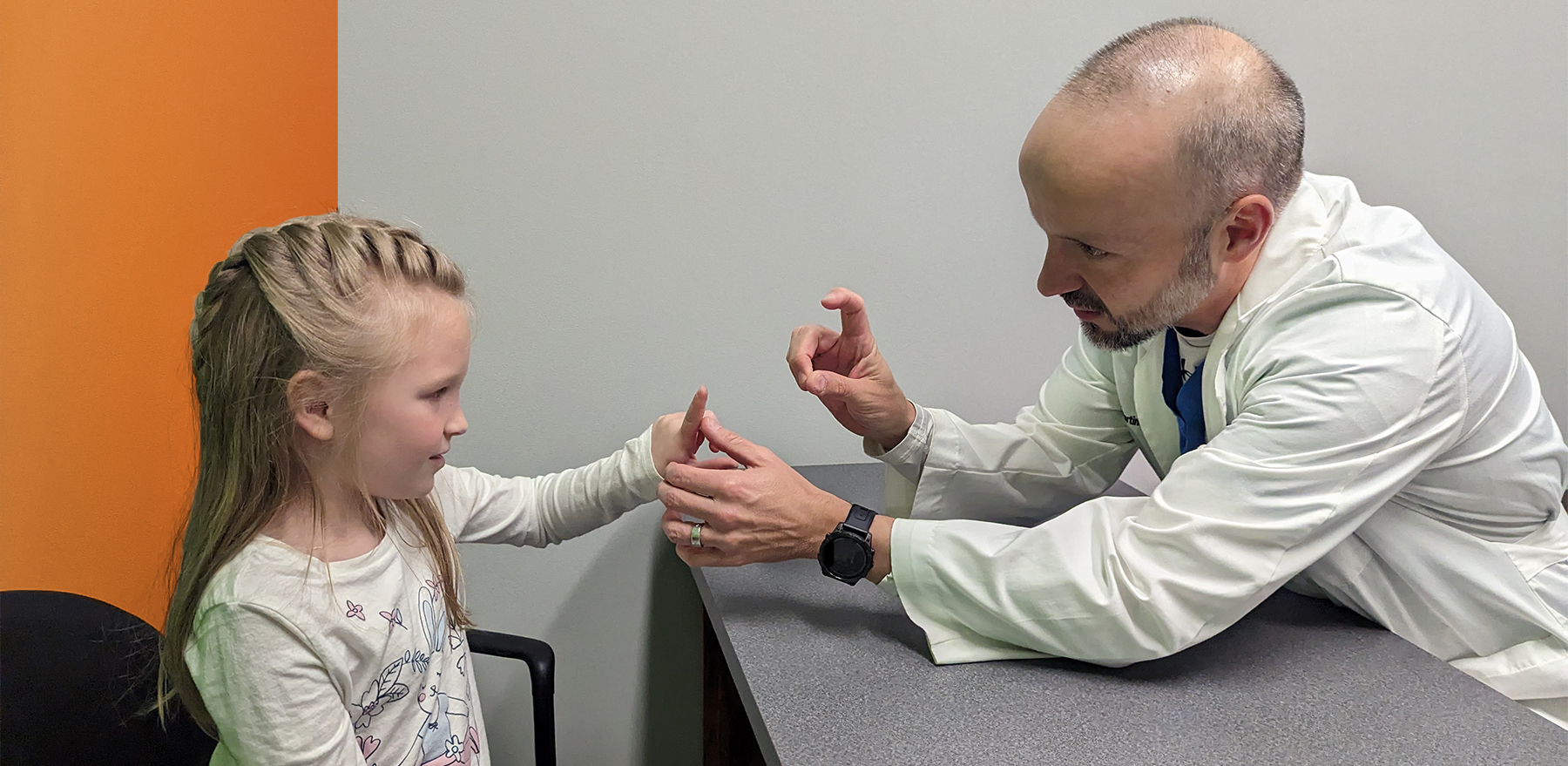 Pediatric Patients and Orthopedic Associates
Orthopedic Associates provides the experience and quality of orthopedic care that families throughout Southern Ohio expect. Many of our fellowship-trained surgeons provide care to patients, from pediatric to those well into their prime of life.
Dr. David Martineau, a fellowship-trained orthopedic hand and upper extremity surgeon, and Director of Pediatric Orthopedic Hand Surgery at Dayton Children's Hospital, took some time to answer questions about treating his especially young patients, and some of the unique challenges they bring to the exam room.
What is the age range of patients you see?
I am thrilled to treat any aged patient from 5 days to 105 years old!
What are the biggest differences in treating children vs. adults?
Kids are NOT just tiny adults (though their anatomy can be quite small). They are in a completely different stage of life experiences, expectations, and ability to articulate what's going on. The very young children haven't yet learned language, which makes diagnosis and management reliant on other methods and techniques that bring the child's caregiver into the mix.
From the technical standpoint, the child's skeleton behaves in dramatically different ways largely due to their growing nature. We have to be extra careful around growth plates to prevent injury and growth arrest.
What are the most common injuries you see in children?
As a pediatric upper extremity surgeon, the most common injury I see is a broken wrist or forearm. Thankfully these are most often managed in a cast or brace without surgery. We often see "overuse injuries" in the wrist and elbow in gymnastics and throwing athletics respectively.
Is there anything you would recommend to prevent orthopedic injuries in kids?
For Sport injury prevention, accidents happen and often can't be prevented, but "overuse injuries" can absolutely be minimized and often prevented. Even professional athletes have an off season. Overuse injuries have become more common in today's era of year-round travel sports. The body can only take so much repetitive trauma before it eventually breaks down. Be sure the child has adequate time to rest and recover between sport seasons. Taking up a different sport in between the one they are most passionate about can be helpful. Working closely with a qualified sports trainer is essential, along with controlling the activity within the season (i.e. limit pitch counts in practices and games).
How can parents protect kids joints in the long run while playing sports?
Make sure you listen to your child and try to identify the difference between sore muscles, which are normal, and an injury to ligaments or joints.
When would you advise a parent to contact an orthopedic provider?
First and foremost: trust your gut. If you think something's wrong, stop and get it checked out! For the more analytical of us, I would not let a nagging pain last longer than two weeks without getting checked. Muscle soreness and minor strains will improve within that timeframe with the simple RICE method (Rest, Ice, Compression and Elevation).
Importantly, if there's been an identified injury and/or you've noticed significant bruising, swelling or obvious deformity, come see us right away.
Bone and joint injuries at any age can be distressing and interfere with living a happy, active life. Orthopedic Associates is committed to providing the highest level of orthopedic care to our patients, and with several of our Fellowship-Trained Hand Surgeons seeing patients as early as infancy, and many of our Fellowship-Trained Sports Medicine and General Orthopedic Surgeons seeing patients as young as 10, we remain the region's leader in orthopedic. Contact us today at 800-824-9861 to make an appointment or to learn more about our providers.