Hand Day 2020 - Patient Spotlight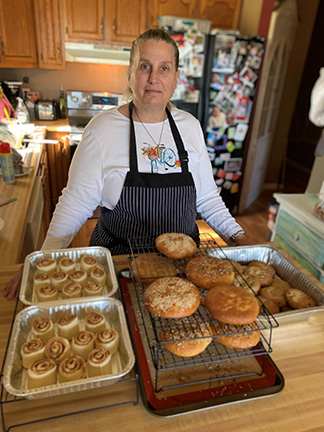 "In May of 2020, I was let go from a small company in Dayton, effectively losing my health insurance and with it the hope of fixing the symptoms of Carpal Tunnel in my hands. Rather than let it get me down, I decided it was time to pull myself up and pursue my dream of owning my own business.
Months after starting Hunny's Bakery, I would never have thought my office would be my kitchen and I'd be doing what I love while making 20 batches of Cinnamon Rolls a weekend and bringing baked goods to the community that means so much to me.
I really enjoy baking and my kitchen is my happy place, but with the increasing issues in my hands, rolling out handmade baked goods is becoming more and more difficult and interfering with running Hunny's Bakery.
When I found out about Hand Day Dayton 2020, I thought I would call and see if I was a possible candidate even though I had just missed the deadline. On Monday the 12th I made the call and felt blessed and ecstatic when I was told I could be seen the same day at Orthopedic Associates! As a thank you to the staff and Dr. Brent Bamberger for seeing me on such short notice I brought in my traditional cinnamon rolls with vanilla bean cream cheese icing.
When the doctor walked in after tasting my cinnamon rolls, and examined my hands, it was a pity that my mask hid the huge smile on my face when he said I would be scheduled for my free surgery the following Sunday and help relieve the painfulness in my hands!
I am very excited about receiving the surgery and intend on baking all kinds of wonderful goodies to share with the hospital staff and providers on Sunday."

Learn more about our wonderful patient, Patricia Bachmann and her business Hunny's Bakery here: hunnysbakery.com and be sure to vote for her as she is a contestant in "The Greatest Baker 2020.
---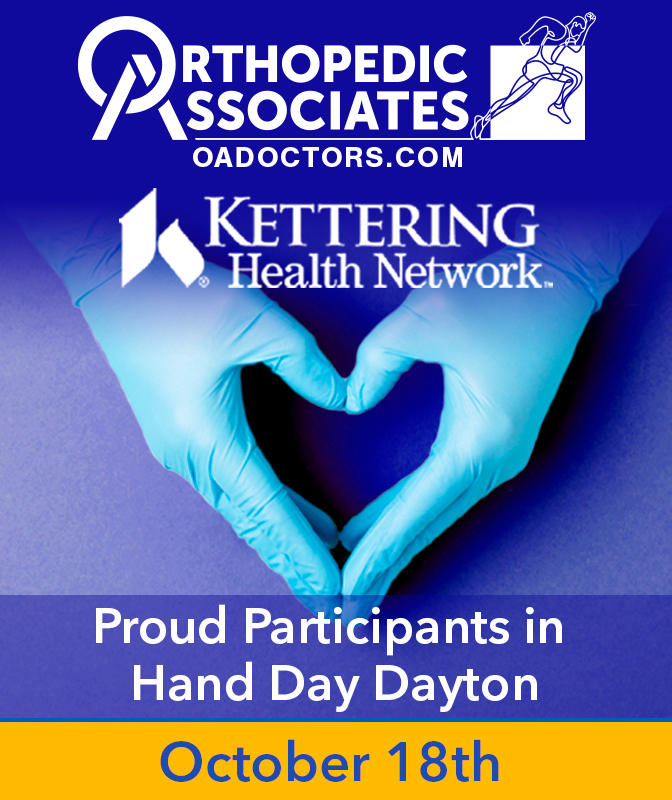 Hand Day Dayton 2020
Orthopedic Associates and Kettering Health Network are committed to improving the lives of people in the communities we serve, and we believe that no one should go without much-needed medical care due to their financial situation.
On October 18, The Hand Center, located at Kettering Health Network's Southview Medical Center, is offering free hand surgery to patients without insurance in the Dayton area.
Qualifying Patients
If you do not have insurance and experience any of the following problems, Hand Day Dayton may be right for you:
Numbness or tingling in our hands or fingers
Fingers that get "stuck" or are difficult to move
Painful lumps or bumps in your hand or wrist
Other hand ailments
If you have any of the hand problems mentioned above, you will be scheduled for a free, one-on-one appointment with a hand surgeon on Sunday, October 11, where the doctor will help you decide if surgery is right for you. Surgery and follow-up care will be provided to you at no cost.
For more information or to schedule an appointment, please call (937) 558-0166 or visit ketteringhealth.org/handday.