We are proud to share that Drs. Weber and Hatic are the first in the region certified to perform robotic assisted total and partial knee replacement surgery.
Orthopedic Associates of SW Ohio has partnered with Wayne HealthCare in Greenville, Ohio to offer patients an established and innovative option for partial and total knee replacements. This highly advanced robotic technology transforms the way orthopedic surgeons perform joint replacement surgery.
The Mako Total and Partial Knee surgery may reduce:
need for opiates
length of hospital stay
inpatient physical therapy
post-operative pain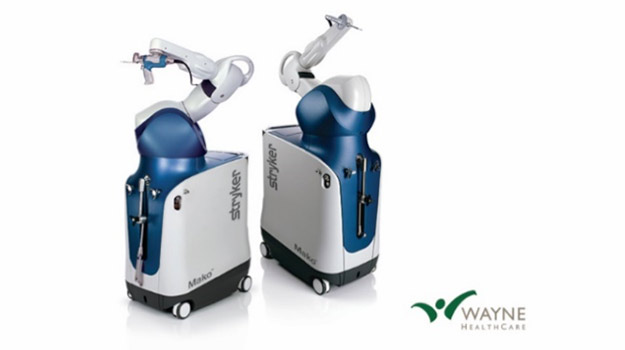 Two Options
The Total Knee application is a knee replacement treatment option designed to relieve the pain caused by joint degeneration due to osteoarthritis. Through CT-based 3D modeling of bone anatomy, surgeons can use the Mako Robotic-Arm Assisted System to create a personalized surgical plan and identify the implant size, orientation and alignment based on each patient's unique anatomy.
The Partial Knee application is a treatment option designed to treat joint degeneration due to osteoarthritis that has not yet progressed to all three compartments of the knee. By selectively targeting only the part of the knee damaged by osteoarthritis, surgeons can resurface the diseased portion of the knee, while helping to spare the healthy bone and ligaments surrounding the knee joint.
Call 800.824.9861 to see if you would be a good candidate or Learn More.